Windows don't have to be dreary or boring. Curtains are one the fastest ways to add a visually appealing look to your home's interior. Whether you want traditional or layered, a curtain make-over is the way to go.
Do you prefer blackout only? Or perhaps you're considering a combination of sheer curtains and solid curtains. The advantage of adding curtains to your room is that there's always a fun way to layer them.
Different Ways to Layer Your Curtains
We're all aware of the many advantages that blackout curtains afford. Investing in them is one thing but knowing how to hang them properly is another thing altogether. It might seem pretty obvious, but there are a few different ways to layer your new curtains that'll completely change the appearance of your room. The experts at Alfresco can help you choose what will work well in your space!
Blackout over Sheer
Layering blackouts over sheer curtains is by far the most popular choice. Hanging your curtains in this fashion gives you some options depending on the amount of light you want in a particular room. These options include:
Closed blackouts: Keeping the blackouts closed keeps light out during the day. This is ideal if you work night shift and need a dark room to sleep in during the day.
Drawn blackouts: Drawing the blackouts back allows sunlight to filter through the sheers, adding natural light to the room.
Blackouts and sheers open: Both blackouts and sheers can be opened for maximum light and air flow. This does limit privacy though.
Sheer over Blackout
Similar to the above option, placing sheer curtains over the solid blackouts is an easy way to soften the window's appearance. Layering curtains in this manner gives your windows a luxurious, flowy appearance.
Sheer over Sheer
If blocking out light in a particular room is not a major requirement, another fun option is sheer-on-sheer. While this provides your window with an elegant look, it won't make it as dark as some other layering options. Layering a few different coloured sheers creates some style and depth. There's a certain visual appeal of layered sheers in contrasting colours.
Sheer Overlay
If you don't want to fuss over curtains, rods and layers but still want the stylish look that a well-draped window adds to your room, overlaying may be the solution for you. This look is created by sewing the sheers into the solid curtains and provides an elegant, layered look without any fuss.
If a not fuss approach is what you're going for, perhaps motorised blinds or curtains are a good option for you. You can even motorise your sheer curtains!
What is the Best Fabric Combination for Sheer and Blackout?
Generally, blackout curtains are made of a combination of cotton and polyester. Other options include heavier woven layered fabrics such as suede or velvet. If the blackouts are made of this heavy microfibre using a triple-weave technology, it eliminates light entry by at least 90%.
Sheer curtains on the other hand are constructed using a variety of lightweight materials. Sheer curtains soften the light that streams through your home. The ideal choice would be to layer your sheers and blackouts in a manner that allows light when you need it and darkness and warmth when you choose.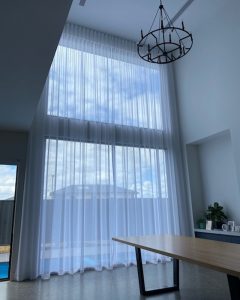 What Colour Combinations Look Better?
Choosing the colours of your sheer and blackout combination should involve some thought. The colour you choose will determine the atmosphere of your room.
Traditionally, blackout curtains were dark and sheers light. However, advancements in material coatings and additional linings on the blackout curtains allow for them to be any colour. This means you can have blackouts in essentially any colour that you want.
You might choose a traditional look with neutral, lined blackouts and light-coloured sheers. Or, opt for a more dramatic look, with a bold colour that accentuates the existing décor, or dark-coloured sheers that ooze luxury. You could also get sheers in the same colour as your blackouts if you prefer a seamless modern look.
At Alfresco Blinds Co, we offer you a variety of blackout and sheer curtain options to enhance any room in your home! Give us a call on 1300 735 077 so we can get creative!