When it comes to improving the ambience and functionality of your living areas, few window treatments can rival the elegance and versatility of S Fold curtains or S Fold Sheers. At Alfresco Blinds Co., we take pride in offering premium S Fold sheer curtains & drapes that not only add a touch of sophistication to any room but also provide exceptional light control and privacy. Let's explore the world of S Fold curtains, their unique design, benefits, and how they can transform your home. So, let's dive in and unlock the secrets behind these exquisite window dressings.
S Fold Curtains
S Fold curtains, or Wave Fold/Ripple Fold curtains Melbourne, are a contemporary window covering option that has gained popularity in recent years due to their sleek appearance and seamless functionality. Unlike traditional pleated curtains that require constant readjustments and can look bulky, S Fold curtains hang in elegant, continuous waves, creating a graceful, fluid look that complements any interior décor.
The Distinctive Advantages of S Fold Curtains:
Modern Aesthetics: S Fold curtains exude modern sophistication, making them a perfect option for residential and commercial spaces. Their smooth curves and clean lines add a touch of elegance that instantly elevates the atmosphere of any room.
Effortless Operation: These curtains are designed for effortless operation. The distinctive track system allows smooth and silent operation, which makes them incredibly easy to operate. With a gentle tug, you can adjust the curtains to your desired position, allowing for precise control of natural light and privacy.
Space-Saving Design: S Fold curtains have a minimalistic design that maximizes space utilisation. They stack back neatly and evenly, taking up less space compared to traditional curtains, ensuring a clutter-free and unobstructed view when drawn apart.
Light Control and Privacy: The soft folds of S Fold curtains create varying levels of light diffusion, giving you control over the amount of natural light entering your space. When fully closed, they offer excellent privacy, making them an ideal choice for bedrooms, living rooms, and offices.
Versatile Fabric Options: At Alfresco Blinds Co., we offer an extensive range of fabric choices for S Fold curtains, including various colours, patterns, and textures. Whether you prefer light and airy or rich and opulent, you'll find the perfect fabric to complement your interior style. Leading brands we work with include:
Nettex Fabrics
Wilson Fabrics
Maurice Kain
Zepel Fabrics
Warwick Fabrics
Gummerson
Transform Your Space with Alfresco Blinds Co.  S Fold Curtains Or Wave Fold Sheer curtains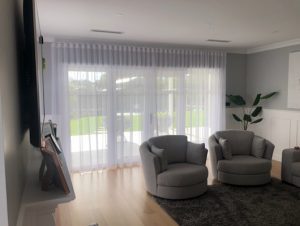 Now that you're familiar with the many advantages of S Fold curtains, it's time to experience the elegance they bring firsthand. At Alfresco Blinds Co., we take pride in providing top-notch S Fold curtains that are tailor-made to suit your unique requirements. Our team of experts will assist you in selecting the right fabric, colour, and design that aligns perfectly with your interior vision.
Check out our stunning collection of S Fold sheer curtains and be inspired by the myriad of design possibilities. From contemporary chic to timeless classics, our curtains are designed to captivate your senses and transform your living space into a sanctuary of style.
Unlike in the past, new sheer curtains, drapes or theatre curtains now come in motorised curtain tracks, so curtain motorisation is available in Melbourne to any home, whether you want it hardwired or NEW rechargeable battery motorised curtain tracks, Alfresco Blinds Co has the curtain automation solution for you.
Upgrade your windows with the refined charm of S Fold curtains from Alfresco Blinds Co. Embrace the elegance, convenience, and versatility they offer, and watch as they breathe new life into your home or office. Let our premium S Fold curtains be the perfect statement piece that complements your interior design while providing unparalleled functionality. Call today to explore the endless possibilities and take the first step toward a more sophisticated living space.