Picking the right outdoor blinds for your home can be overwhelming when you see the choices available! From Ziptrak to Zipscreen, café to bistro, roller crank or eZip blinds, where do you even start? Each design will enhance the appearance of your outdoor living space and almost all are available in mesh or PVC materials.
Which one should it be though when looking for the best outdoor experience? Knowing the differences between mesh vs. PVC blinds will help you to make the best decision for your outdoor living space. Use our complete guide to get all the answers you need before deciding which outdoor blinds are best for your home's patio or outdoor entertainment area.
The Benefits of Installing Mesh and PVC Outdoor Blinds
Both mesh and PVC outdoor blinds have their benefits, each offering varying levels of protection, transparency and insulation:
PVC: Select this type if you're looking for clear views, protection against the outside elements and a surface that's completely rain- and wind-proof while keeping the warmth inside.
Mesh: A woven material available in different densities, pick this type if you're looking for more airflow while still getting some protection from wind, sun and rain. Mesh offers between 70% and 99% shielding against outdoor elements. It also gives you privacy with some view plus reduced heat transmission.
Deciding how much privacy or views you want as well as the level of insulation and protection you need from the elements will help you choose between the different materials.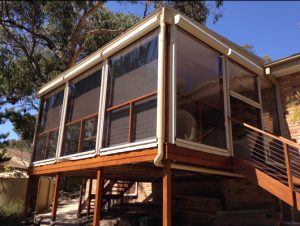 Does Installation Differ Between Mesh and PVC Outdoor Blinds?
Correct installation is essential for maintaining the design and quality of the outdoor blind while optimising its functionality. While installation of different outdoor blind designs may vary slightly, the type of material doesn't change the way they're installed.
Proper installation guarantees you get the best performance from your new feature. The right brackets, pelmets and other fittings of both mesh and PVC outdoor blinds will be used to ensure they are protected and work exactly as they should. Using professional installers – such as Alfresco Blinds Co – guarantees they'll be properly integrated into your outdoor structure, whether they're constructed with mesh or PVC materials.
Other Key Features of Mesh and PVC Outdoor Blinds
Insulation, protection and transparency levels are key features that set the two different materials apart. But what other key features should you be aware of when picking either mesh or PVC?
Insect barrier: Both PVC and mesh blinds will help keep those pesky bugs out while you're entertaining in your outdoor living space.
Protects furniture: While both PVC and mesh blinds will protect your furniture from wind, rain and dust, sunscreen mesh also protects them from fading as it cuts out more UV than PVC.
Customisable: Both mesh and PVC outdoor blinds can be customised to meet your individual needs. They're available in various colours, densities and specifications.
Whether you're using mesh or PVC blinds, one of your main priorities should be ease of use. Quality-made outdoor blinds should offer durable but simple ways of opening and closing them smoothly. Both mesh and PVC blinds can be operated using a manual or motorised operation.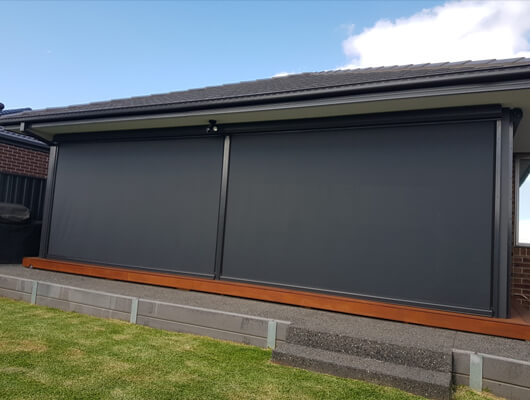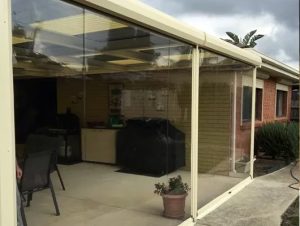 Maintenance of Mesh and PVC Outdoor Blinds
Maintenance is essential for keeping your PVC or mesh outdoor blinds in top condition. But which one is easier to maintain?
Mesh blinds are less likely to show dirt. This means you may be able to go longer between washes, which you can do with a gentle brush and soapy water. Once done, hose down to rinse off the excess soap.
PVC blinds need more attention when it comes to keeping them clean and well-maintained, as the dirt is easier to see on the material. General tips:
Hose them down to remove dirt and dust before giving them a good wash with a soft brush and soapy water.
Excess soap can be removed by hosing down the blinds again when you're done washing them.
PVC blinds need to be completely dry before rolling them up.
Important tip: avoid using harsh cleaning detergents for both mesh and PVC materials.
Final Thoughts
Deciding between mesh and PVC outdoor blinds all depends on how you want to improve your patio or outside entertainment space. Speaking to our friendly team at Alfresco Blinds Co is a good way to start if you're still not sure which type to pick.
Whether it's mesh or PVC bistro or café blinds, Ziptrak or Zipscreen, eZip or roller-crank designs, we've got the right style for you! Give us a call on 1300 735 077 for top advice and let us help you find the best blinds for your outdoor lifestyle.