There's no denying it. Retractable awnings add a touch of style and convenience to your outdoor entertainment area. Part of what makes them such a modern and popular option is their ability to retract and extend as needed.
Have you decided to add retractable awnings to complement the existing outdoor blinds you already have? In that case, it's important to decide if you prefer manual or motorised options. How do these two choices compare? What are the pros and cons? Which is best for YOUR specific space? Read on to find out!
What are the Key Differences Between Manual & Motorised Retractable Awnings?
Whether manual or motorised, awnings are an excellent way to keep your home sheltered from the sweltering Australian summer sun. As a result, they help keep your guests cool, comfortable and protected.
The most significant difference is that manual awnings are operated using manpower to crank a handle which then extends or retracts. Motorised awnings work on their own at the simple push of a button. Most motorised awnings can be controlled using a remote control, even from inside the house.
Essentially, motorised options are more popular because of the convenience they offer. However, both manual and motorised options will ensure sufficient protection from the elements. And both look stylish and provide adequate shelter.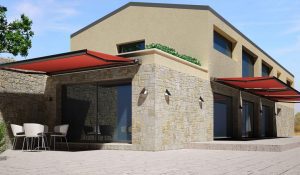 What is a Motorised Retractable Awning?
As the name suggests, motorised awnings work with motors. The motor enables the awning to retract or extend and doesn't require any manual labour. Effortless for you to use!
Motorised awnings can be controlled using a wall switch or wireless remote control. You'll have complete control of how the elements affect your space and won't have to run out in the rain to manually adjust the awning's setting
Accessories that can be added to your motorised awning include:
Light sensors
Timers
Sun and wind sensors
Pros
Convenient: Decide when you want your awning retracted or extended
Aesthetically appealing: When not in use, the awning can easily be retracted which lets it blend into your outdoor space's décor
Easy to use: Operating the awning at the touch of a button means it's easy for anyone to use
Durable: Retracting your awning will prolong its life because it isn't exposed to the elements
Cons
Extra cost: Motorisation and automation could be out of budget if you're on a strict awning budget
What is a Manual Retractable Awning?
Manual retractable awnings operate using a winch system to retract or extend. Newer models are easy to operate and are a more cost-effective option.
Pros
Easy to use: Manual retractable awnings are easy to install and even easier to use. They don't require any electrical connections.
Can operate in power outages: Since there's no electricity needed to operate them, manual retractable awnings can easily be used during power outages.
Cost-effective: Manual awnings are cheaper as there are no motorised parts.
Cons
Can be a challenge to use for some: While the manual operation is relatively easy, it can be difficult for some who have physical limitations.
Must go outside: Manual operation means you need to go outside to get the awning to retract or extend–not ideal during wild weather!
How to Choose the Best Awning for Your Space?
Deciding on the best awning for your space largely depends on your unique requirements. To determine what type of awning you'd prefer, answer these questions:
What budget are you working with?
Do you want an awning that should be extended in the summer only or would you use it year-round?
Would you prefer the convenience of a motorised option?
Will the weather in your area be too severe for an extended awning?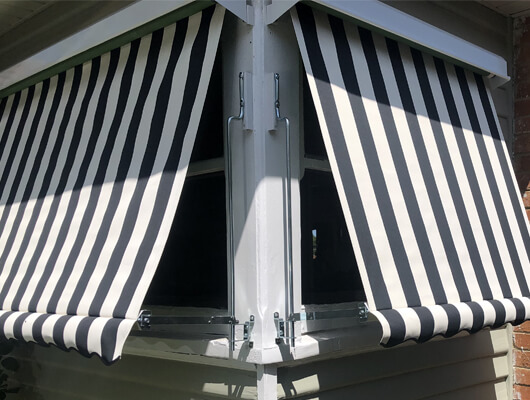 Manual vs Motorised: How Do The Costs Compare?
We should stress that there is no standard price for installing awnings. Whether you opt for a manual or motorised version, costs are based on varying factors such as:
Size of the awning
Material chosen
Optional accessories
Manual or motorisation options
Our Alfresco Blinds Co team will give you a quote based on your individual requirements.
Finding Australia's Top Awning Supplier
The good news is that you don't have to look very far to find a durable, stylish and functional retractable awning, perfect for your space. With Alfresco Blinds Co's custom options, getting access to the perfect awning for your residential or commercial space has never been easier.
It's as simple as contacting us on 1300 735 077 for a customised, FREE QUOTE. Our team of experts are eagerly waiting to add some functional and stylish shelter to your outdoor residential or commercial space!