Installing outdoor awnings in your home or building is a great solution for protection against harsh weather while adding to architectural aesthetics. They come in a range of styles and functions to match your lifestyle, privacy, heating and cooling needs. But, which awnings are best for your home or building?
When reviewing our collection of awnings, you'll have a number of features and styles to pick from. Keep reading to find out what awnings are available and ensure you make a well-informed choice for your outdoor space!
Types of Outdoor Awnings: What You Need to Know
Awnings can improve the look of a building, but you need to pick wisely. With a wide range of awnings to pick from, you can choose the best style for your outdoor area or windows. You can also benefit from functional features.
When picking from out outdoor awnings, you'll discover the following options are available:
Manual or motorised
Fixed, folding or retractable designs
Straight drops, hoods or sun shades
Different fabrics and colours
Outdoor awnings are excellent shade solutions as long as you pick the right design for the façade of your residential or commercial building. You need to ensure the fabric and functionality matches the type of weather protection you seek, be it gusty winds, extreme heat or heavy rains.
If you're looking for a heating and cooling solution to keep your interior space comfortable during all seasons, you need to ensure you pick the best style for optimal insulation. This makes it clear why you first need to identify your needs before browsing the different options available.
Traditional Awnings
Traditional awnings come in a range of canvas fabrics, screen mesh and colours. These traditional outdoor window treatments offer 100% UV protection if you opt for canvas or light filtration while maintaining views with a screen mesh. The designs add character to the façade of your home or building and project minimally for sleek shading solutions.
Traditional awnings are operated manually or automatically for ease of use and convenience.
Folding Arm Awnings
Folding arm awnings are used by both businesses and homeowners. They're sleek, functional and stylish, ideal for all windows and outdoor spaces. You can pick either manual operation or motorised options for opening and closing the awnings.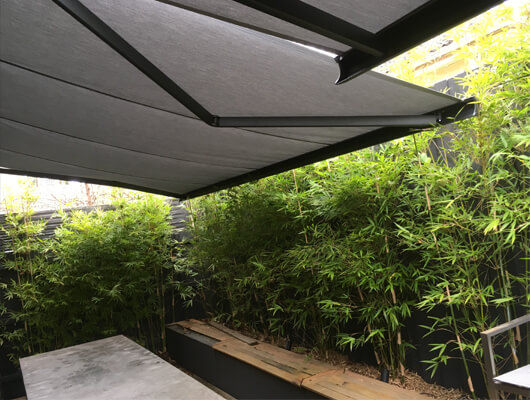 Various folding arm awnings designs and styles come with their own range of features and functions and can include the following:
Different widths and projections depending on your requirements
Stainless steel fixings
Aluminium brackets and supports
Wall and roof installations
Pitch control systems
You have the option of choosing different colours and fabrics for optimal aesthetics.
Retractable Awnings
Retractable awnings or verandah blinds are used on either horizontal or inclined structures. They're perfect for glass roof structures, providing shading from harsh sunlight and can be installed inside or externally. The other benefits of retractable awnings include:
Better management of daylight entering your outdoor entertainment or living space.
Privacy from inquisitive eyes!
Protects you and your outdoor furniture from harmful UV rays, rain and wind.
Easy installation on most types of surfaces.
Reduced need for air conditioning.
Retractable awnings come in a variety of colours and fabrics.
Straight Drop Awnings
Straight drop awnings, also known as eShade, are an excellent alternative to the traditional sunblind. They work for a number of different applications including windows and balconies, providing a shade solution for both homeowners and businesses. The sleek design enhances any home or commercial building façade and you have the option of mesh, acrylic, canvas or clear PVC fabrics.
Different colours are available, and you can choose the straight drop roller crank style, fixed guide side rail option or wire guided system. All straight drop awnings can be manually or automatically operated and are suitable for both face and recessed applications.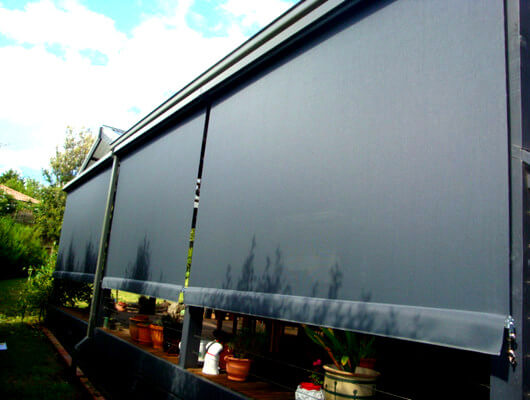 Dutch Hoods
Dutch hoods are fixed awnings that add a touch of European flair. It's a cost-effective solution for protection against the elements while offering shade as well. Dutch hoods can be installed on patios, above doorways or hallways and as window treatments and are available in a range of colours and fabrics.
Made with pre-coated steel, these fixed awnings are customisable to fit any size and can handle extreme conditions, withstanding hail, gusty winds and flying debris. Dutch hoods offer a seamless appearance, enhancing the aesthetics of homes and buildings.
Final Thoughts
With so many different types of awnings available, picking the right design for your home or building can be challenging. However, with the advice of our friendly and experienced team at Alfresco Blinds Co, you can be sure your awnings will be the right solution for your unique needs.