Are motorised blinds worth it? The short answer is, yes! Outdoor blinds are already an excellent addition to any home or business, but with the added advantage of motorisation, you will be able to reach new levels of comfort and simplicity.
In this article, we will look into some of the types of motorised outdoor blinds available at Alfresco Blinds Co, so that you can see the benefits and find the perfect set of motorised blinds or awnings for your space.
Motorised Blinds for All Types of Installations
Outdoor blinds are very comparable to traditional indoor blinds that you install to cover windows in your home, providing many of the same benefits but for your outdoor area. Both indoor and outdoor blinds can be motorised, however, we will be mainly focusing on outdoor motorisation in this blog.
Many Australians are installing outdoor motorised blinds in their homes because of the many benefits they afford. Technology allows you to add a motor to a range of different blind installations, indoors or outdoors. One of the main perks of motorisation is that it gives you complete control over your installation and eliminates the need for ropes and cranks. With so many options available, you will be sure to find a set of motorised blinds that will complement your décor and home's façade, whilst also providing the functionality you have been searching for.
Motorised Ziptrak Blinds
If you're looking for a way to update your outdoor space, then motorised Ziptrak blinds could be the perfect solution. Ziptrak are a popular outdoor blind solution for both the indoors and outdoors of your home, thanks to their easy operation and seamless design. A motorised set of Ziptrak blinds make an excellent addition to any patio or outdoor area.
Advantages of Ziptrak blinds
Provides shelter from wind and rain
Protects outdoor furniture
Keeps out sunlight
Easy to use
Completely adjustable
Keeps insects out
Gives you privacy
And when you add a motor, you also get the added bonus of being able to control your Ziptrak blinds remotely!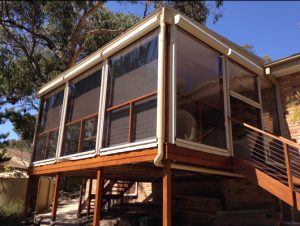 Motorised Awnings
Another great way to get more out of your outdoor space is by adding motorised awnings. This is a type of roof cover or canopy that attaches to the exterior of your house. This overhang offers protection against harsh sunlight, rain and strong gusts of wind. At Alfresco Blinds Co, we have a range of different awnings to serve your shading needs.
Most motorised awnings can be retracted with a simple push of a button, so you can store it out of the way when it isn't needed. They provide shade, whilst also adding a luxe feel to your outdoor space.
Advantages of adding motorised awnings to your home include:
Protect your family and outdoor furniture from the elements
Reduce direct UV rays
Lowers your carbon footprint by reducing energy charges from cooling units
Durable, low maintenance and easy to clean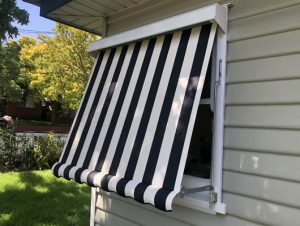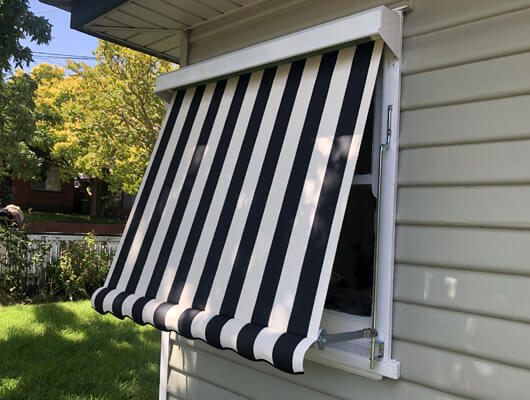 Electronic eZip Blinds
eZip blinds are on the cutting edge of design and invention. They feature a unique side zip design that holds the material in place. Fitted to the outside of windows, on balconies, or entertainment areas they offer protection from the elements and allow you to use your outdoor living space throughout the year.
The design comes with both a manual or motorised option that is easy to use. To perfectly suit any area, the eZip blinds come in a wide variety of colours and have no visible zips, ropes or straps.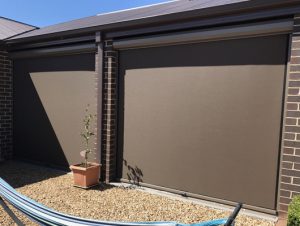 Final Thoughts
We hope from this you can see how a motorised blind installation would be worth adding to your home or business. Now that you know a little more about some of the motorised outdoor blinds that we offer at Alfresco Blinds Co, you can make an informed decision on the type that you need. If motorisation isn't for you, we also have a huge range of manually operated blinds to choose from.
Enjoy using your outdoor area more by contacting Alfresco Blinds Co today on 1300 735 077 or visit one of our experts on site. Want to know more about outdoor or indoor blind motorisation? Get in touch!