There's a great variety of outdoor blinds to choose from but finding the one that really makes your house feel like home can be a mission.
Before selecting any type of blinds it's important to know what different functions your outdoor blinds offer. Questions, such as 'is this cost effective' and 'will it serve the purpose it's intended for' are essential before making your final selection. Aesthetics also comes into play as outdoor blinds and awnings need to enhance your environment, not take away from it.
Before selecting any type of outdoor blinds here are a few things you need to know about the different types of outdoor blinds Melbourne's Alfresco Blinds Co has to offer.
The Different Types of Outdoor Blinds
Because outdoor blinds are so versatile it's helpful to differentiate between the different types by highlighting their basic features and benefits:
Ziptrak Blinds: This brand of outdoor blind is a popular option for many customers because of its simplicity and resilience. If you need protection for your home or office from wind, rain, pests and the sun's rays, these outdoor blinds are an ideal solution. The mesh or PVC blind material used is high quality and affords you the ultimate protection against the elements. Also, they're user friendly with the ability to be operated manually or by a motor. If motorised, you also have the ability to control your Ziptrak blinds
Café Blinds: These types of blinds offer a classic and sophisticated look and feel to any home. Café blinds are typically operated on a hand-rolled or rope-and-pulley system and are an affordable option often seen on many outdoor entertaining areas and commercial outdoor dining areas. Similar to the Ziptrak, the PVC or mesh materials offer users respite from UV, high winds and rain. Your choice of material will also influence the level of privacy you are afforded.
Bistro Blinds: This type of PVC outdoor blind is highly suitable for use in commercial and residential outdoor areas. They have the durability to withstand and endure Melbourne's unpredictable inclement weather and last for years. Bistro blinds offer good value for money and look attractive in any space. The PVC material is available in clear and tinted variations, allowing you to keep your views while protecting your interior from glare and sun-fade.
Awnings: We have a huge range of awning styles available to suit your lifestyle and outdoor needs, such as traditional awnings, automatic awnings, folding arm awnings, Dutch hoods, straight drop awnings and more! The type of awning you require will depend on your needs, but one of our outdoor blinds experts will be able to guide you to the right product.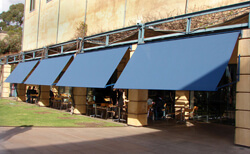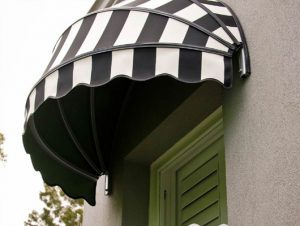 General Guidelines
Of course, you want to maximise your investment when picking outdoor blinds and ensure it delivers on all the important features required. Here are a few guidelines that can assist before you make your final selection on an outdoor blind:
Be practical and opt for outdoor blinds or awnings that not only beautify your living space but also provide protection against direct sunlight to protect your furniture
If the temperature is an issue, evaluate the space where you need blinds and opt for ones that will keep your space cool and decrease the usage of cooling units or fans
Keep in mind the regular maintenance and cleaning required when selecting your new blinds or awnings
Bistro blinds are a great option if you're looking for something that's affordable, requires low maintenance and has a great life span
If you have small kids at home, make sure that your selection takes into account what will be the best option for your family
Alfresco Blinds Co offers a huge range of outdoor blinds products in addition to the four types mentioned above, such as eZip, Zipscreen, Straight Drop and eShade Awnings and many more!
If you need guidance on which type of outdoor blind is best for your home, call us today on 1300 735 077 and our experts will assist with any questions you might have. Alternatively, drop us an email if you need a quote on info@alfrescoblindsco.com.au or visit our showroom.